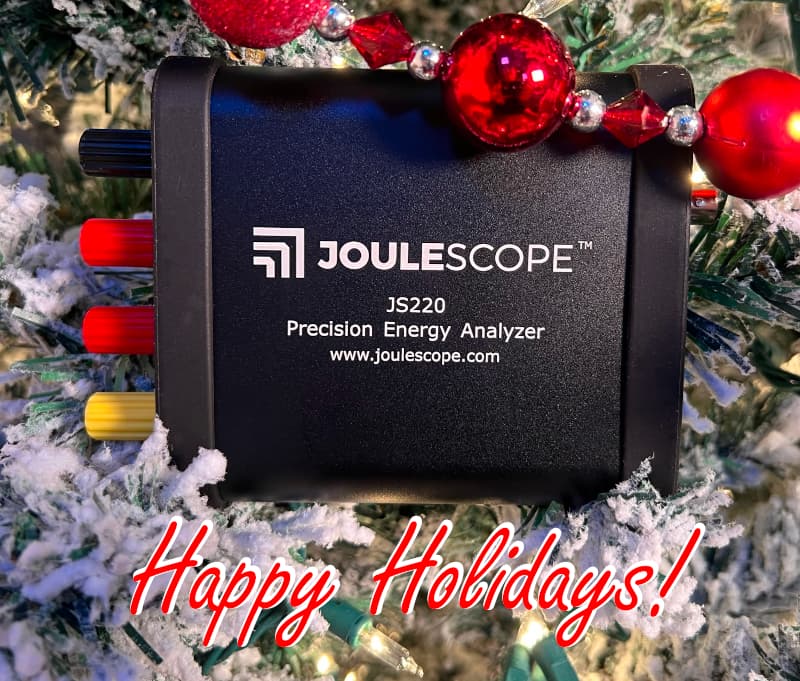 We hope you and your loved ones have a wonderful holiday season filled with joy and relaxation.
Thanks to your support, the next-generation Joulescope JS220 launch was successful! While we have already shipped many JS220's, our work is not done. We are now focused on the Joulescope User Interface and unlocking more JS220 features. As a result, we will have some exciting improvements coming in early 2023 including multiple simultaneous device support, greater customization, and even more analysis capabilities. Best of all, these upgrades come at no additional cost!
In observance of the holidays, the Joulescope store will be closed from December 23 through December 28. Orders placed after 3 pm US EDT (UTC-5) on December 22 will ship on December 29. We will also be closed on Monday, January 2, 2023.
Thank you for selecting Joulescopes for your measurement needs. We are thrilled and honored to help you build better, more energy-efficient products. We look forward to hearing about what you create with Joulescopes in 2023 and beyond!
Happy Holidays!
– Matt and the Joulescope team
---
Copied from our newsletter