Hi! I have been using the Joulescope for quite some time for testing IoT devices. Recently, I needed to test the charging of a tiny battery inside of a device we're building. I figured the Joulescope could do this.
I planned to connect the battery management circuit (charger/discharger) to the input side and the battery to the output side. I knew there was going to be some reverse current, because the battery is also discharging but this wasn't important for the measurement and from consulting the datasheet it didn't seem like the Joulescope could get damaged. I tried powering a LED on the reverse channel beforehand to test the reverse measurement, everything worked fine.
I had trouble measuring the battery, the voltage measurements were all around the place. Later I noticed weird behaviour from the Joulescope. This is a screenshot of the oscilloscope view after startup: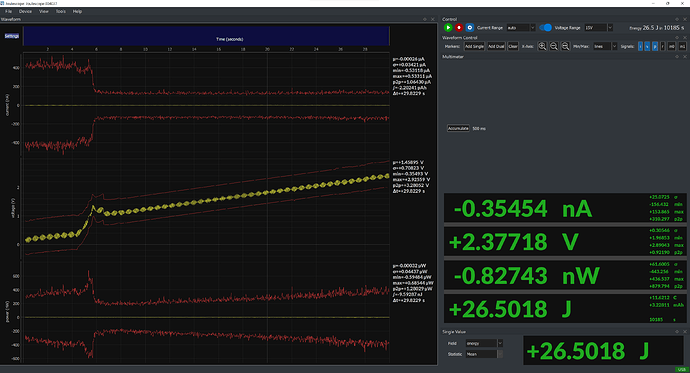 It seems like the scope is charging itself and slowly drifting from 0 to 5V or even 10V. If I put a load (any load) on the output or simply short the output (with no input) this corrects to 0. If I connect a source and load the measurements seem perfectly fine. The current reading seems unnafected whatsoever. But the voltage still drifts with no load.
I don't understand what is causing this, maybe there are some capacitors charged on the load side? Did I damage the device? Is there any way to fix this? Thanks.