Searched the forum because I'm surprised I'm the first to see this:
(Platform: Linux)
After going into Tools-> clear accumulator, the voltmeter readings (V/I) are frozen. In the case of current, it drops to zero, in the case of voltage it freezes the last reading.
Compare graph to values below.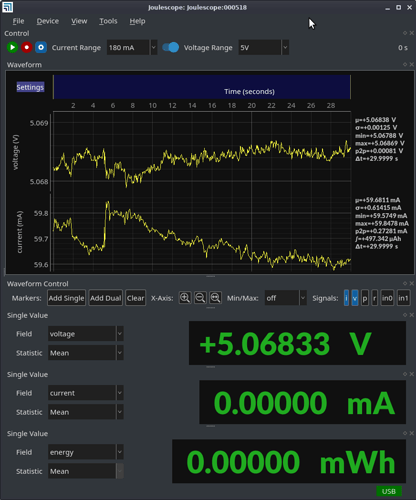 the command line spits out the following over and over
ERROR:2021-03-14 19:54:49,944:main.py:592:joulescope_ui.main:resync queue failed
Traceback (most recent call last):
File "joulescope_ui/main.py", line 588, in event
File "joulescope_ui/main.py", line 655, in _on_device_statistic
TypeError: 'bool' object is not subscriptable
I do speak python but haven't got time right now to figure out the architecture and debug it.
Simple fix -> restart the launcher.