This may be identical to the issue I reported in the Crash on Histogram request topic, but I'm creating an new issue specific to this problem, because it is causing me to lose hours worth of data, and I am on a tight schedule to collect these data and produce reports.
I started two instances of Joulescope UI last night before leaving work to perform a charging test that takes 3-4 hours to complete. Upon arriving this morning, this was on my screen.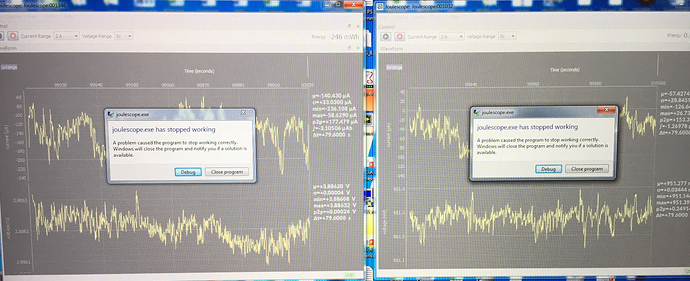 I had to go into Task Manager and end both processes after exiting the dialog. I went to look at the log files, which both appeared to have a lot of data in them due to file size, but when I opened them I got 'Could not initialize device' at the bottom of the screen and no data was displayed. Another night of testing down the drain. This is not an infrequent occurrence. In fact, I started up one instance of Joulescope before I started entering this post. It has already crashed again, and this time I was not even logging any data, just capturing.
The log files from the two instances are attached:
joulescope_20200409_185049_36252.log (616.5 KB)
joulescope_20200409_215211_26732.log (257.4 KB)
A log file for when I tried to open my logged data file is attached:
joulescope_20200410_111321_31648.log (17.2 KB)
The log file for the new session that died while I was typing this post is attached:
joulescope_20200410_111623_37112.log (673.7 KB)
I now have to discharge the battery in my DUT and recharge the battery in my charger, which takes a few hours, before I can run another test. Please escalate this issue - I consider it critical. I have purchased three of these units, two recently (one was used for the very first time to run this test). They were purchased to acquire data logs to test a wireless charging system (both battery being charged in DUT and battery used to provide inductive power source). They are not of much use to me if I cannot use them for their intended purpose.