Hello,
I've recently discovered the joulescope, and I am trying to understand if it offers the performances I need for some measurement.
Basically, I want to measure a current profile similar to the one below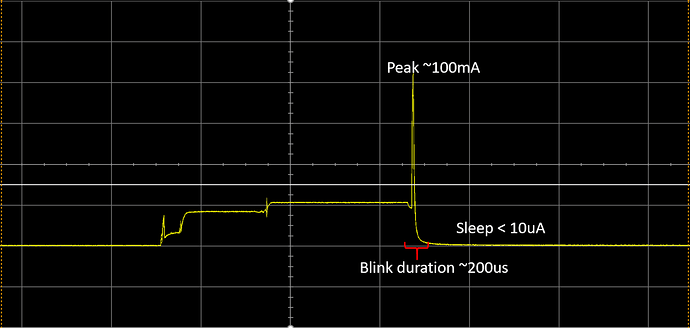 The device in in Idle for several ms, current consumption is about 15mA.
There is a 200us peak, with a max current value around 100mA (Could go as high as 140mA)
Following the blink, device goes to sleep and current consumption is down to less than 10uA.
Does a jouloscope has sufficient dynamic range and resolution to perform such measurement ? I'm particularly interested in the Peak to sleep phase that is very quick, and I wonder if the measurement will be fast enough to display the peak.
I suspect the device may not be able to measure the 200us peak with spike at 100+mA with a sufficient resolution. Is the 250KHz bandwidth sufficient for such measurement ?
Also, the current goes from 100+mA to <10mA within one ms. Does the joule scope has sufficient resolution to provide such current profile ?
The first table page 11 of the user manual makes me think that the joulescope cannot measure both current around 100+mA, and current within 10uA accurately (as the resolution for the 180mA range is 15uA).
It sounds like there is an auto-ranging feature allowing the device to switch between different current measurement range. Will this auto-ranging be fast enough in my case knowing that the blink is only 200uS ?
Thank you very much for the help,
Kind regards
Yves